The Veltiss-2 airspeeder was a fast and lightweight airspeeder designed by Desler Gizh Outworld Mobility Corporation. It boasted significant advancement in pilot assistance technology that made navigating on urban worlds at high speed significantly easier. One such speeder was owned by Moff Nyna Calixte.[1]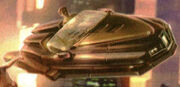 Depending on the needs of the pilot, it could be both open-topped or closed cabin. While in open-topped mode, the speeder used the microrepulsor technology to generate a "virtual hard top" - a nearly frictionless field that allowed the speeder to maintain an aerodynamic profile while protecting the passenger and the pilot associated with traveling at high speeds on worlds such as Coruscant.[1]
Appearances
Edit
Notes and references
Edit
Ad blocker interference detected!
Wikia is a free-to-use site that makes money from advertising. We have a modified experience for viewers using ad blockers

Wikia is not accessible if you've made further modifications. Remove the custom ad blocker rule(s) and the page will load as expected.