Vibrodagger
Talk

1
103,578pages on
this wiki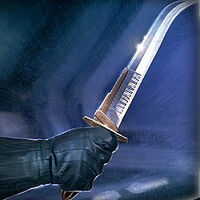 A vibrodagger, or vibro-dagger, was a type of vibroblade that was larger than a vibroknife, yet smaller than a vibrosword.
Vibrodaggers were wielded by the shadow troopers, and clone assassins of the Grand Army of the Republic during the Clone Wars. The Zabrak bounty hunter Sugi also utilized vibrodaggers in her arsenal as did fellow hunter Aurra Sing. In addition, N. Papanoida used a vibrodagger against Greedo at Jabba's Palace.
Phase I dark troopers of the Galactic Empire used vibrodaggers that had a paralyzing effect. During the Imperial era, assassins working for Imperial Intelligence used high-powered vibrodaggers. Though the technology behind these blades is not known in detail, the design was derived from research into the metallic worms called the Raen sovra.
One model of vibrodagger during the Galactic Civil War was the LaserHone Talon vibrodagger. This model was often carried by Imperial Storm commandos.
Appearances
Edit
Notes and references
Edit