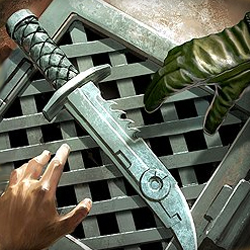 A vibroknife, or vibro-knife, was a blade that used an internal generator to make the blade vibrate. These vibrations could make even a glancing blow into a huge, gruesome slash, thus making it a far more effective weapon in close combat, or as a tool. These small weapons were openly used by all denizens of the Galactic Republic, from clone commandos to regular citizens.
A vibroknife was the primary weapon of choice of the Imperial Agent Cipher Nine.
Appearances
Edit
Ad blocker interference detected!
Wikia is a free-to-use site that makes money from advertising. We have a modified experience for viewers using ad blockers

Wikia is not accessible if you've made further modifications. Remove the custom ad blocker rule(s) and the page will load as expected.