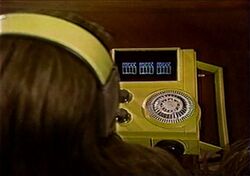 A book-like piece of technology that could display videos was used by the young Wookiee Lumpawarrump in 1.5 ABY. He watched a cartoon about the exploits of his father, Chewbacca, on the video book, but switched the screen to instead display a simple game when a curious Imperial commander came to investigate.
Behind the scenes
Edit
While referred to as a video book in The Star Wars Holiday Special's script, the item has not been named in canon.
Appearances
Edit
Ad blocker interference detected!
Wikia is a free-to-use site that makes money from advertising. We have a modified experience for viewers using ad blockers

Wikia is not accessible if you've made further modifications. Remove the custom ad blocker rule(s) and the page will load as expected.