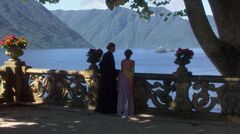 Villa del Balbianello is a villa in the comune of Lenno, Italy which overlooks Lake Como. The villa was built in 1787 on the site of a monastery. By the end of the 20th century, the villa came under the ownership of the National Trust of Italy. The villa was featured in a number of feature films, including Star Wars: Episode II Attack of the Clones.
The villa was shown as the Lake Retreat where Padmé Amidala and Anakin Skywalker hid while Obi-Wan Kenobi tracked down those responsible for attempting to assassinate Amidala and where the clandestine wedding of Skywalker and Amidala took place.
External links
Edit
Ad blocker interference detected!
Wikia is a free-to-use site that makes money from advertising. We have a modified experience for viewers using ad blockers

Wikia is not accessible if you've made further modifications. Remove the custom ad blocker rule(s) and the page will load as expected.