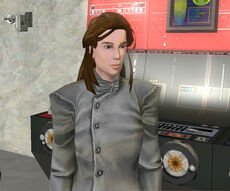 Vitala Baize was a red-haired female Human police officer in the Corellian Security Force who held the rank of captain.[1] At some point after the Battle of Yavin,[2] Baize was tasked with infiltrating the Chirq Council,[1] a criminal organization based on Corellia,[3] and locating its leaders. She was armed with a blaster and dressed in a Corellian Security Force uniform during the operation.[1] At some point she was in charge of security in the norther area of the Corellian city Doaba Guerfel, where she assigned a group of spacers to infiltrate the Council as well.[3]
Behind the scenes
Edit
The character of Vitala Baize was created for the MMORPG online game Star Wars Galaxies, in which she acts as the quest-giver for several quests involving the infiltration of the Chirq Council.[3] A unique promotional card of her was created for the the Threat of the Conqueror set of the Star Wars Galaxies Trading Card Game in 2010. The card was illustrated by artist Miguel Coimbra.[1]
The card was released as part of a tournament pack called the "Vitala Baize Tournament Pack," which contained the Baize promotional card among others.[4] The pack was released as part of the June 2010 Loot Tournament Weekend Event hosted by Sony, which ran from June 5–6 in 2010.[5]
Appearances
Edit
Notes and references
Edit
External links
Edit