Voort saBinring
Talk

2
103,420pages on
this wiki
Voort "Piggy" saBinring
Biographical information
Homeworld
Physical description
Species
Gender
Height
Mass
Hair color

None

Eye color
Chronological and political information
Era(s)
Affiliation
"My name is Voort saBinring. You can call me Piggy."
―Voort saBinring
Voort saBinring, or "Piggy", was a Gamorrean male and member of Wraith Squadron from its inception in 7 ABY through the Yuuzhan Vong War.
Biography
Edit
New Republic
Edit
"I think he told me about you when I was very young. One of those 'you can be whatever you want when you grow up' stories. 'The Gamorrean Who Became a Fighter Pilot.' I thought he'd made it up"
Prior to joining the New Republic Navy, saBinring was biogenetically altered by Binring Biomedical Product, given a genius mathematical acumen and the ability to speak Basic via a throat-mounted translator. His prowess with mathematics was so great that during his first days as a Wraith, he demonstrated an ability as a sort of tactical computer, his mathematical abilities and pattern recognition allowing him to guide other pilots to heighten their efficiency, even as he flew well himself.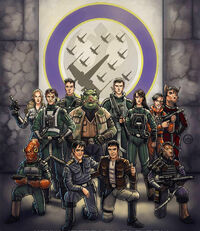 Eventually escaping the facility with help from his creator, Tuzin Gast, saBinring made his way to Obroa-skai and joined the Rebellion. His creator later committed suicide. However, his starfighter career was abruptly cut short by a xenophobic superior officer who framed him for assault and insubordination. The officer punched at him, Piggy blocked, and the officer reported that saBinring attacked him. Undeterred, saBinring applied for transfer to Wraith Squadron and immediately impressed squadron leaders Wedge Antilles and Wes Janson with his genius for astronavigation and intelligence analysis. He also had a simple explanation for why he could not have attacked the officer: If Piggy had punched him, the officer would not have been able to speak coherently at the time he reported the "assault".
The evacuation of Folor base following the attack by Admiral Apwar Trigit and the Implacable saw Wraith Squadron fall foul of Zsinj's latest toy, the Empion mine. While the squadron drifted helplessly in space, Piggy suffered the indignity of having his vocal implant disabled and he was only able to communicate through a series of grunts. Fortunately Grinder was able to effect repairs and Piggy volunteered for a crazy scheme to turn the tables on their ambushers.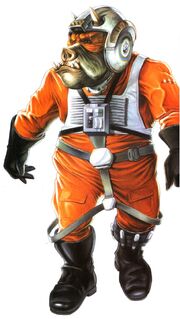 By jury-rigging a vehicle made of X-wing and parts of the Narra called the Lunatic, Piggy was able to maneuver into the hold of the Night Caller and use his blaster cannon to kill Captain Zurel Darillian and capture the ship. Following the debriefing, he jokingly asked whether he could keep the Night Caller. Wedge explained that although that question would have been treated as a joke by any other military force, it was perfectly legitimate in the New Republic owing to the naval traditions of the Rebel Alliance. Piggy could have submitted a request to transfer which Wedge would have approved. He would then receive an immediate promotion to Lieutenant and a temporary promotion to Brevet Captain. After 6 months to a year of cargo missions, he'd receive proper missions for the New Republic. Ultimately Piggy declined to take Wedge up on the offer.
When Warlord Zsinj brainwashed certain members of nonhumanoid species to wreak havoc in the New Republic and assassinate important leaders, Piggy single handedly saved Admiral Gial Ackbar's life. Lieutenant Jart Eyan, a Twi'lek was brainwashed, and when receiving a code phrase trigger, walked into Admiral Ackbar's office, where Piggy was at the time commenting on Wraith Squadron's most recent significant encounter with Warlord Zsinj, and shot Piggy in the stomach. Piggy, although near death, was overcome with base Gamorrean instincts, and rose to fight Eyan. He broke the blaster with a vibroblade and smashed the Twi'lek into the wall, smashed his head flat and left a big dent in the wall with a desk, shortly before passing out. Piggy had to be submerged in bacta for an extended period of time, but fully recovered and eventually returned back into the Wraith's service.
As a Wraith, saBinring participated in the fight with freelance Imperial Admiral Apwar Trigit and was a valued analyst on Han Solo's anti-Zsinj task force. He continued service with the squadron when it was transferred to New Republic Intelligence.
In 13 ABY in a mission involving Imperial Admiral Kosh Teradoc, in a bar on the world of Ryvester Piggy acted as a dancer. After reciving the signal from Face, who was digused as a pirate, Captain Hachat, looking for a partner to retrieve priceless work of art, Piggy shouts in Gamorrean that a raid is happening. This, coupled with audio recordings of other shouts of a raid, causes the patrons in the bar to panic. A fire fight ensues. Piggy relays info of enemy positions from his throat implant to other Wraith members. When one of Teradoc's body guards aimed a blaster at the fleeing Loran and Dr. Mulus Cheems, he jumped off the stage and tackled him, breaking the guards bones and knocking him unconscious. Piggy then makes his way out the door. When he made it outside, Runt plays a trick on him making him think that he got caught. He got into a nearby airspeeder where he was expecting a change of clothes. But due to another one of Runts jokes he was forced to ride to the evac point practically naked. The Wraiths made it to the docks and boarded a luxurious yacht, belonging to Admiral Kosh Teradoc, where he finds a robe and begins to mix drinks. A short time later the fake statue Teradoc took back to his base explodes, destroying the secret bio-lab and presumably killing Teradoc.
Yuuzhan Vong War
Edit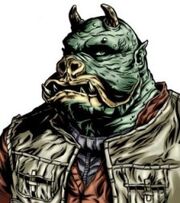 During the Yuuzhan Vong invasion in 27 ABY, he participated in Wedge Antilles' efforts to repel the Vong from Borleias, as both a Wraith and a member of Twin Suns Squadron. Piggy would also help plan Luke Skywalker's mission to Coruscant to hunt down Lord Nyax. In 29 ABY, near the end of the Yuuzhan Vong War, he was part of the mission to the Vong controlled world of Chashima, acting as the sniper for Runt and Estoric Sandskimmer. Just as the latter two were getting away from a shaper damutek with a new secret weapon that the Vong had developed, they were attacked. In spite of Piggy's help, both Wraith members were killed. Piggy is forced to perform a mercy killing on his friend Runt by shooting him through the chin so he wouldn't have to suffer the effects of the amphistaff venom that poisoned him. This incident caused Piggy to resign from the Wraith and renounce his nickname because of Runt's death and because the weapon that the Vong had developed at that point wouldn't be able to help them against the Galactic Federation of Free Alliances given that the GA has them on the ropes, making Runt's death pointless
Hunt for a Traitor
Edit
In 44 ABY on the world of Ayceezee, Voort was a mathematics professor. He soon ran into Face Loran, who was getting the band back together after Daala's purge, and wanted him to join to prove that Galactic Alliance General Stavin Thaal was part of the Lecersen Conspiracy. Face's arguments convinced him to join. He traveled with Face to Coruscant, were he joined Myri Antilles and Trey Courser during a Wraith Squadron mission-in-progress. The mission involved blacking out a spaceport and hijacking a GA military hauler. After knocking out several GA Troops and hijacking the hauler, they made their way to their "unsafe house". There Voort met with the rest of Wraith Squadron, including Bhindi Drayson, Jesmin Tainer, Turman Durra, and Viull "Scut" Gorsat. During the mission at the warehouse, Scut was shot with a lethal bolt in the back. Voort was surprised when he got back up and ran to the speeder. After making their escape Voort was surprised to learn that Scut was actually a Yuuzhan Vong, part of the Extolled caste, who was captured by the New Republic after a battle that killed most of the Yuuzhan Vong and given to Mulus Cheems and his wife, whom raised him as their son. The neoglith masquers, a version of the ooglith masquer, Scut was wearing absorbed the blast. Because of his experiences during the Yuuzhan Vong War, Voort was instantly distrustful of Scut.
Appearances
Edit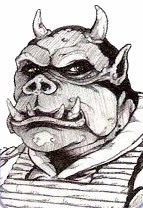 Notes and references
Edit
↑ The Official Star Wars Fact File