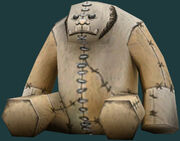 The Wampa stuffed animal was a house object that offered denizens the chance to enjoy all the soft and cuddly aspects of the wampa without the inherent dangers of being taken back to one of the beast's lairs and eaten for dinner. When its stomach was poked, the animal would emit a distinctive "roar."
Appearances
Edit
Ad blocker interference detected!
Wikia is a free-to-use site that makes money from advertising. We have a modified experience for viewers using ad blockers

Wikia is not accessible if you've made further modifications. Remove the custom ad blocker rule(s) and the page will load as expected.