Ad blocker interference detected!
Wikia is a free-to-use site that makes money from advertising. We have a modified experience for viewers using ad blockers

Wikia is not accessible if you've made further modifications. Remove the custom ad blocker rule(s) and the page will load as expected.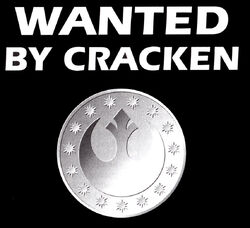 Wanted by Cracken was a series of articles presented in the Star Wars Adventure Journal. Following roughly the same format as the book of the same name, it profiled criminals wanted for various crimes by Alliance Intelligence chief Airen Cracken. It also included bounties and roleplaying stats for inclusion in games of Star Wars: The Roleplaying Game.
Characters
Droid models
Organizations and titles
Vehicles and vessels
Weapons and technology
Miscellanea
Characters
Events
Locations
Organizations and titles
Sentient species
Vehicles and vessels
Weapons and technology
Miscellanea
Characters
Organizations and titles
Sentient species
Vehicles and vessels
Weapons and technology
Miscellanea
Characters
Droid models
Events
Locations
Organizations and titles
Vehicles and vessels
Miscellanea
Characters
Locations
Organizations and titles
Sentient species
Vehicles and vessels
Miscellanea