"When you see him on screen there's a certain magic. He's a marvelous actor. Three feet tall, but filled with energy and charm and a sense of humor and a marvelous talent for pantomime."
―Tom Smith (producer of Caravan of Courage: An Ewok Adventure)
Warwick Ashley Davis (born February 3, 1970, Epsom, Surrey, England, UK) is an actor noted for being short—he is three feet six inches (about one meter) tall. He is probably best known as the title character in Willow, Professor Flitwick and Griphook in the Harry Potter films, and a murderous leprechaun in the long-running series of horror films of the same name. Warwick Davis also played the body of Marvin the Paranoid Android in the 2005 film version of The Hitchhiker's Guide to the Galaxy.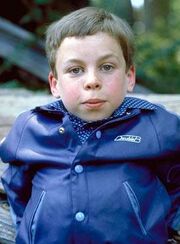 Other notable roles include his first film role as Wicket the Ewok, who was befriended by Princess Leia in Star Wars: Episode VI Return of the Jedi. He also made a movie of his own about Wicket, a mockumentary made with help from Return of the Jedi's first assistant director, David Tomblin. The unreleased film was a fictional look at his decision to become an actor and act in the film and his transformation into an Ewok. He continued the role as Wicket in the made-for-TV movies Caravan of Courage: An Ewok Adventure and Ewoks: The Battle for Endor. He had four brief uncredited appearances in The Phantom Menace—one as W. Wald, the young Rodian friend of Anakin Skywalker; the other as Weazel, one of the gamblers at the podrace. Davis also had a cameo as a "Tatooine street trader", and doubled Yoda in some of his "walking" scenes in Episode I (although Yoda still was voiced by Frank Oz).
In addition to his acting career, Davis is the co-founder of the talent agency Willow Management, founded in 1995. It specializes in representing actors under five feet tall. In 2004, his agency also began representing actors over seven feet tall. Several of the actors in his agency had performed in Star Wars films, such as Kenny Baker (R2-D2), Mike Edmonds (Logray and co-puppetteer for Jabba the Hutt), Michaela Cottrell (Even Piell), Sarah Bennett, Danny Blackner, Peter Burroughs (who is also Davis's father-in-law), Paul Grant, Andrew Herd, Trevor Jones, Nicholas Read, Kiran Shah, Brian Wheeler (Unidentified Ewoks) and, although uncredited in the movies, Rusty Goffe (Kabe, Gonk droid and a Jawa in A New Hope) and Raymond Griffiths (Gonk droid in The Phantom Menace).[1]
Filmography
Edit
Title
Release Date
Role
Return of the Ewok
made in 1982 (unreleased film)
(Himself/Wicket)
Star Wars: Episode VI Return of the Jedi
May 25, 1983
Wicket
Classic Creatures: Return of the Jedi
1983
Himself
Caravan of Courage: An Ewok Adventure
November 25, 1984
Wicket
From Star Wars to Jedi: The Making of a Saga
1985
Himself
Ewoks: The Battle for Endor
November 24, 1985
Wicket
Willow
May 20, 1988
Willow Ufgood
Willow: The Making of an Adventure
1988
Himself/Willow Ufgood
Star Wars: Episode I The Phantom Menace
May 19, 1999
W. Wald/Weazel/a Tatooine street trader/Yoda[2]
The Beginning: Making Episode I
October 16, 2001
Himself (uncredited)
Harry Potter and the Sorcerer's Stone
November 16, 2001
Professor Flitwick/Griphook (voice)
Harry Potter and the Chamber of Secrets
November 15, 2002
Professor Flitwick
Harry Potter and the Prisoner of Azkaban
June 4, 2004
Professor Flitwick
Empire of Dreams: The Story of the Star Wars Trilogy
2004
Himself/Wicket W. Warrick
(special thanks)
When Star Wars Ruled the World
2004
Himself
Harry Potter and the Goblet of Fire
November 15, 2005
Professor Flitwick
LEGO Star Wars II: The Original Trilogy
September 12, 2006
Wicket W. Warrick (uncredited voice)
Harry Potter and the Order of the Phoenix
July 11, 2007
Professor Flitwick
Prince Caspian
May 16, 2008
Nikabrik
Harry Potter and the Half-Blood Prince
July 17, 2009
Professor Flitwick
Harry Potter and the Deathly Hallows Part 1
November 11, 2010
Griphook
Harry Potter and the Deathly Hallows Part 2
July 7, 2011
Griphook and Professor Flitwick
Star Wars: Episode VII The Force Awakens[3]
December 18, 2015
Wollivan
Rogue One: A Star Wars Story
December 16, 2016
Weeteef Cyu-Bee
Star Wars Rebels
2017
Rukh
Star Wars: Episode VIII The Last Jedi
December 15, 2017
TBA
Solo: A Star Wars Story
May 25, 2018
TBA[4]
Work in Star WarsEdit
Bibliography
Edit
Notes and references
Edit
External links
Edit
Ad blocker interference detected!
Wikia is a free-to-use site that makes money from advertising. We have a modified experience for viewers using ad blockers

Wikia is not accessible if you've made further modifications. Remove the custom ad blocker rule(s) and the page will load as expected.