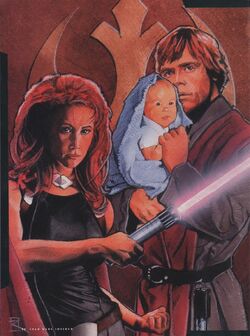 "Who's Who in the New Jedi Order" was an article appearing in Star Wars Insider 57. Written by Daniel Wallace, it covered the members of the New Jedi Order series, with small bios detailing their appearances in various Star Wars media. It also included a gallery depicting many never-seen-before Jedi, as illustrated by Dan Veesenmeyer and Russell Walks.
Sections
Jedi Masters
Jedi Knights
Jedi Trainees
Behind the scenes
This article listed Jacen, Jaina, and a number of Jedi trainees in the Jedi Knights section, although they were not formally promoted until later in the NJO.
Ad blocker interference detected!
Wikia is a free-to-use site that makes money from advertising. We have a modified experience for viewers using ad blockers

Wikia is not accessible if you've made further modifications. Remove the custom ad blocker rule(s) and the page will load as expected.