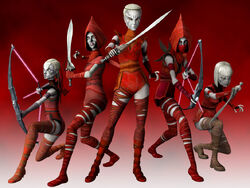 A witch was a female user of magic who tended to use the Dark side of the Force. Witches were found in primitive cultures where the concept of the Force was known as magic. The Dathomirian Witches were an order of witches as were the Mind-witches.
Morag was a witch from the Forest Moon of Endor. Female Sayormi on Kashyyyk were also called witches.[1]
The term "witch" was also used as an insult towards female beings. For example, Count Dooku referred to Asajj Ventress as a witch.
Appearances
Edit
Notes and references
Edit
External links
Edit
Ad blocker interference detected!
Wikia is a free-to-use site that makes money from advertising. We have a modified experience for viewers using ad blockers

Wikia is not accessible if you've made further modifications. Remove the custom ad blocker rule(s) and the page will load as expected.