Wookieepedia:Featured article queue/December 15, 2009
Talk

0
103,544pages on
this wiki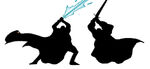 Of the two contests of strength that happened there, the First Duel in the Iron Citadel occurred earlier in the year 3,997 BBY, between the grief-stricken Jedi Ulic Qel-Droma, and Emperor Satal Keto, co-leader of the Krath and ruler of the Empress Teta system. The duel took place on the eponymous planet of Empress Teta, in the capital city of Cinnagar, on the balcony of the Krath's stronghold: the Iron Citadel. The duel commenced shortly after a weapons display by Ulic Qel-Droma who, as a secret agent of the Jedi, was attempting to infiltrate the dark side-following Krath cult from within.
While Qel-Droma was explaining to Tetan officials new technological upgrades he had made to their planetary defenses, he was interrupted by Satal Keto, who had just received word of a female Jedi captured in the streets of Cinnagar. Accusing Qel-Droma of being a spy, Keto had the woman brought before them; Qel-Droma immediately recognized her as his former lover, Nomi Sunrider, but unwilling to prematurely expose his deception to the Krath, Qel-Droma agreed to have her imprisoned pending execution. However, Qel-Droma had sent a secret message to Sunrider, explaining his need for more time to complete his mission. The message was never received by her; instead, it was intercepted by Satal Keto who, in the face of Qel-Droma's newly exposed treachery, ordered him to be assassinated at once. The attempt failed, but succeeded in enraging Qel-Droma, who set off immediately in search of Lord Keto.
Meanwhile, Sunrider managed to escape her holdings, and had also called her colleagues for an extraction in light of the deteriorating situation. Help came in the form of Qel-Droma's brother Cay, and the Twi'lek Jedi Tott Doneeta. They were preparing to depart without Qel-Droma, just as Lord Keto encountered them from a balcony of the Iron Citadel. To everyone's surprise, Qel-Droma also appeared on the balcony, confronting the Krath warlord and engaging in a duel. It ended with Satal Keto being struck down by Qel-Droma in a fit of rage. With his dying words, Keto expressed his satisfaction in knowing that his death had successfully driven Ulic Qel-Droma to the dark side of the Force.
Recently featured: XJ-2 airspeeder – Darth Azard – Hoggon