Wookieepedia:Mister Star Wars 2008/Archive
Talk

30
Ad blocker interference detected!
Wikia is a free-to-use site that makes money from advertising. We have a modified experience for viewers using ad blockers

Wikia is not accessible if you've made further modifications. Remove the custom ad blocker rule(s) and the page will load as expected.
Mister Star Wars 2008 is Wookieepedia's tribute to the finest gentlemen of Star Wars. Feel free to vote or add more nominees! Remember to update both the gallery and the vote section when nominating new candidates. Note also that both gallery and list of candidates are alphabetical by first name.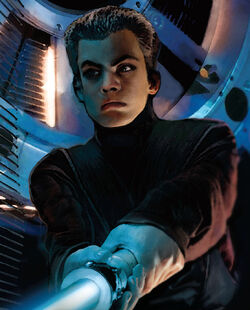 Just remember: only registered Wookieepedians are allowed to vote. Fake or anonymous votes will be removed. Please indicate your vote using the #-sign. And please, fictional characters only; no real people. Otherwise, vote for as many fellas as you like! (And don't forget the ladies!)
Gallery
Nominees/Votes
Period. korydvandyke 01:27, 18 December 2008 (UTC)
As you wish. Mauser 11:18, 18 December 2008 (UTC)
Boba, all the way. -Seanpatrickhanley 18:04, 18 December 2008 (UTC)
No Question about it.The Boba Fettest 18:42, 18 December 2008 (UTC)
Who else? He's the best!--Tahlismyhero 20:55, 18 December 2008 (UTC)tahlismyhero
This or Vader...HMMMMMMMMMMMMM!!!!!!--Power courage wisdom and time 21:10, 18 December 2008 (UTC)
Always the best choice. Fett 1138 (

HoloNet Transceiver

) 21:26, 18 December 2008 (UTC)
Mhi Nynir Torne! Boba the bucket head Fetts are the greatest.Boba11 00:35, 19 December 2008 (UTC)
Kandosii! --eethkoth1 02:00, 19 December 2008 (UTC)
WHLfan (talk to me!) 03:18, 19 December 2008 (UTC)

I need a name

(

Complain here

) 14:34, 19 December 2008 (UTC)
For Mandalore! Ronik Pierion 01:54, 20 December 2008 (UTC)
Go Boba its your birthday! We're gonna party like its your birthday! Darth Kath 20:41, 18 December 2008 (UTC)
Mandalore forever! --Kriszo 13:56, 20 December 2008 (UTC)
-- Joseph (Obi Maul12) (Chow) 18:01, 20 December 2008 (UTC)
freakishly cool.null37 20 December 2008 (UTC)
- Darksaber501st 22:07, 20 December 2008 (UTC) Boba Fett is Kandosii! I like Barden Jusik but Fett rocks.
-hmmm, Peter Griffen favorite character, K--Grand Moff Wilhuff Tarkin 23:30, 20 December 2008 (UTC)
Gotta love the Mand'alor Biddarin 02:39, 21 December 2008 (UTC)
Boba's adventures introduced me to the Mandalorians User:Nototter
Drenskin 10:54, 21 December 2008 (UTC)
Because he is who he is. Jedi Link 11:55, 21 December 2008 (UTC)
It is Boba Fett, no other reason needed. Egoa 20:29, 21 December 2008 (UTC)
Darth Revanon 7:26, 22 December 2008 (UTC)
id vote for marek but he hasnt come back from the dead like fett did...yet user:Helljumper051
I'll vote for Boba.. after all, I'm no good to him dead. L1ght5aber 19:48, 22 December 2008 (UTC)
Boba just has to beat Galen! lu-xun 14:31, 23 December 2008 (UTC)
He's the Man! Always has been, Always will be! HyenaSpawn 10:47, 23 December 2008 (UTC)
He's Fett. 'Nuff said --JediCommando 18:35, 23 December 2008 (UTC)
Hail to the Mand'alore! Flag-Waving American Patriot 21:37, 23 December 2008 (UTC)
Well his Backpack got jets. Dark Ridley 04:46, 24 December 2008 (UTC)
Mandalore!Sith-venator 18:01, 24 December 2008 (UTC)
Go Boba volksgrenadier
Verd ori'shya beskar'gam -Echoes-(Tion'ad hukaat'kama?)
He's the man(dalorian)!--Glenns 16:08, 25 December 2008 (UTC)glenns
Boba Fett: responsible for removing the two biggest douchebags in recorded history from our fair Galaxy. Rodtheanimegod4ever 05:13, 26 December 2008 (UTC)
Here We Go Alphadragon 16:19, 26 December 2008 (UTC)
Even George Lucas can't kill him Dr. Bough 21:40, 26 December 2008 (UTC)
Mandelorians are awesome. User:Kelif the Jedi
The orginal mando. User:DieJARJARDIE
I gotta admit, Boba did some rockin' stuff this year. Leialover229 18:58, 27 December 2008 (UTC)
Even though Jango could easily kill him even as Mand'alore he can't win. So I leave my vote to him. Aliit ori'shya tal'din. Boba cuyi te Kandosi Mand'alore, ner vode. User:Mand'alore te Kote
The one and only Sarrlac survivor. If that's not a reason to vote for him (among other things) nothing is. Arbita
"For Mandalore!"--Mitth'raw'nuruodo(Imperial HoloNet) 02:52, 28 December 2008
He nearly defeated Mace Windu as a 12 year old boy. User:Davis Joness
I would have voted for Jusik, but looks like that's a lost cause.. Boba Fett is still one of the best Mandos and Mandalors there ever was.. Oya! --The Wolfe22 18:48, 29 December 2008 (UTC)
Meesa yoda 03:03, 30 December 2008 (UTC)
The king himself :p Kypzethdurron
Like father, like son. FOR MANDALORE!!! User:Shortfry911
He's so awesome! User:Davis Joness
All hail Mandalore Kyp

(It's a trap)

03:46, 31 December 2008 (UTC)
Captain Rex an awesome freethinking Clone Captain try finding a better clone captain. Orcson1 18th December 08
Darksaber501st 21:28, 21 December 2008 (UTC)go Rex!
Yes Sir!!!! Teeky 06:48, 26 December 2008 (UTC)
He's so cool he should be cloned! Mister D 18:58, 26 December 2008 (UTC)
Sweeeeet. Leialover229 18:58, 27 December 2008 (UTC)
Best Clone ever!!--JediBen14 03:45, 29 December 2008 (UTC)
Meesa yoda 03:03, 30 December 2008 (UTC)
Go Captain Rex!Clonewarrior
A great Jedi Master, who tried his hardest to avert the Clone Wars. May he rest in peace. Sithlordsforever 14:09, 29 December 2008 (UTC)
He has the coolest armor
Come on we can't let Captain Rex take all the glory, Cody is a good trooper.--Tansl Retor 03:32, 29 December 2008 (UTC)User:Tansl Retor
"Blast him!" Cody rules!--Darksaber501st 22:01, 29 December 2008 (UTC)
An ultimate villain. --Skywalker22 08:14, 23 December 2008 (UTC)
So cool! Leialover229 18:58, 27 December 2008 (UTC)
Meesa yoda 03:03, 30 December 2008 (UTC)
Fi is the best. He is the funniest, I actually feel like an idiot, laughing hysterically in public, when I read some of his jokes. The Mandos deserve a chance! Oya, Ner Vode! Kandosii! Drake Lothus
Fi is hilarious! He's probably the funniest person in Star Wars. Go Fi!--Darksaber501st 22:56, 28 December 2008 (UTC)
Pretty much a no-brainer this year. User:Obiwan122586
He is the man. Defeated Vader, bested the Emperor, and started the Rebel Alliance. He uses freakin' TIE fighters as weapons. --Skywalker22 09:13, 18 December 2008 (UTC)
Seriously. eethkoth1 18:47, 18 December 2008 (UTC)
The coolest video game character EVER.--Tahlismyhero 21:31, 18 December 2008 (UTC)tahlismyhero
Nice guy Mauser 22:01, 18 December 2008 (UTC)
He owns, enough said. -Dex 22:04, 18 December 2008 (UTC)
Someone who can pull Star Destroyers, STAR DESTROYERS!!!, down from the sky with only the force deserves to be mister of the year. QX100 00:52, 19 December 2008 (UTC)
Go Galen!! Kgrimes2 00:54, 19 December 2008 (UTC)
Defeat Vader once again!—×Marvel brainiac 01:22, 19 December 2008 (UTC)Marvel brainiac
took out a star destroyer with the force!!! Grpeephole303
Well there was that game made about him.... User: Sarathos 15:58, 19 December 2008 (UTC)
I have to admit, he deserves it. He did a hell of a job. Antonstaen 12:36, 19 December 2008 (UTC)
Galen Marek RULEZ!!! I love it when he kills Shaak Ti on Felucia. There is no way Galen can lose! All Hail Galen Marek!! #User:RaidenX 15:10, 19 December 2008 (UTC)
He beat Vader, and could beat anyone else on this page hands down.

CC-2054

Talk

17:53, 19 December 2008 (UTC)
He is a total and utter BA, reverse lightsaber grip and a great stroy behind him. For being Vader's lackey, he is a total pimp! --Anju Vena 19:35, 19 December 2008 (UTC)
Cam12343 - 4:47 - December 19th, 2008 The Lightsaber Wiki
It's hard using a lightsaber backhand. Plus, he's awesome. ~Roger Roger~ Home of the B1s 22:39, 19 December 2008 (UTC)
Not only did he form the Rebellion, but he also is the coolest character to play in the video game and played by the awesome SAM WITWER!. He really RULES! --SuperFlash101 23:14, 19 December 2008 (UTC)
Anyone who beats the **** out o Palpatine gets my vote any day.LastJedi1515 01:37, 20 December 2008 (UTC)
Ronik Pierion 01:55, 20 December 2008 (UTC)
I see this took the lead rather quickly. Starkiller was my alternate choice. --

Riffsyphon

1024

14:17, 20 December 2008 (UTC)
go Rebels! --

skywalker122

* Cylka * 19:52, 20 December 2008 (UTC)
Awesome game, awesome character. Darthcronox1027
Great character, he was the best on Wii. Mr. Rabbid
freakishly cool.null37 20 December 2008 (UTC)
Most definately awesome Jedigeneral 21:44, 20 December 2008 (UTC)
Jedi, Rebel, whats not to like? Corellian Premier 04:02, 21 December 2008 (UTC)
He is king awesome! User:501first 6:14, 21 December 2008
Even though my favorite TCW character is Capt. Rex, Marek is one of the best (and most badass) characters in the SW universe! CommanderTony 18:38, 21 December 2008 (UTC)
He helped the Rebellion get a leg up in their fight against the empire.[crimson jack]
Hot. Yes, he is. Don't argue. Yes. -Jinko 01:30, 22 December 2008 (UTC)
Nejee16 05:44, 22 December 2008 (UTC)
Without a dodubt, Marek is one of the greatest and most badass character in Star Wars history!!! Ranveer2 16:54, 22 December 2008 (UTC)
he has the most votes when i saw this, and he is the best.Mrhappy100 19:47, 22 December 2008 (UTC)
Are you kidding? How is there even competition this year?User:Revanthereformer1138
Basing my vote solely on the fact that this is the single most influential male SW character this year. And Krelmann wasn't listed... Medleystudios72 19:51, 23 December 2008 (UTC)
It is his year...QuiGonJinnBe mindful of the Living Force... 21:03, 23 December 2008 (UTC)

Chack Jadson

(Talk)

00:03, 24 December 2008 (UTC)

DarthDragon164

Dragon's Lair 00:37, 24 December 2008 (UTC)
DarthSith 21:37, 24 December 2008 (UTC)
--Dylankidwell 18:21, 24 December 2008 (UTC)
--Adam9389 16:31, 24 December 2008 (UTC)
He grew up under the tutelage of Darth Vader and still managed to see the light. Someone who does that gets MY vote.Obi-Waan Kenobi 19:36, 24 December 2008 (UTC)
Only because I don't want stupid, arrogant, over-rated Boba Fett to win. Laureilie 8:02, 24 December 2008 (UTC)
The best badass and antihero Star Wars character ever!! --Lord Hammu 21:27, 25 December 2008 (UTC)
YAY! He's my hero. Xinder 00:44, 26 December 2008 (UTC)
Shien style rules! Muldoon X9 03:35, 26 December 2008 (UTC)
Darth Paulus (

May the Force serve you well!

) 15:28, 26 December 2008 (UTC)
My debut year! The Force wills that I win. Galen Marek (

Personal Comm

) 00:50, 27 December 2008 (UTC)
This is probably the guy I've had the most fun playing as in a long time. Leialover229 18:58, 27 December 2008 (UTC)
Again, that reverse grip is unbeatable. Supreme Admiral Jack 21:38, 27 December 2008 (UTC)
I'll be wishy-washy. I really like Galen.. he pwned Vader and Palpatine. L1ght5aber 01:26, 28 December 2008 (UTC)
lets just face it he could kill any of the other dudes on this pageLuminoth 21:07, 28 December 2008 (UTC)
He died so young.... Tsc, tsc tsc... Drake Lothus
I have his lego piece :joy: -- User:Darth Kai
Super B.A.
Meesa yoda 03:03, 30 December 2008 (UTC)
Starkiller HAS TO KICK BOBA FETT'S ASS!!--Axel Shan 05:34, 30 December 2008 (UTC)
Does anybody need convincing? he pwns everyone that will ever be mentioned on this page!-Fettvengeance36
this is his year User:A6 lhpd
Um, yeah, DUH. See the way he punks Vader in TFU's dark side ending? 'Nuff said. All hail Galen! --User:TorrinZaxx
Wuher abides!

Madclaw

Shyriiwook! 06:12, 20 December 2008 (UTC)
Sorry about the mess.

IFYLOFD

(

And now, young Skywalker, you will die.

) 05:18, 21 December 2008 (UTC)
Soong peech alay Enochf 12:22, 21 December 2008 (UTC)
Golden Monkey 15:53, 22 December 2008 (UTC)
"I will KILL all of you! You hear me Jedi!"--Anderson 20:42, 18 December 2008 (UTC)

Chack Jadson

(Talk)

22:43, 18 December 2008 (UTC)
--Mitth'raw'nuruodo(Imperial HoloNet) 10:50, 19 December 2008 (UTC)
You expect victory over Jedi, but all you give me to fight them is battle droids! --Kriszo 13:02, 19 December 2008 (UTC)
The one and only Toa of Mind 00:52, 20 December 2008 (UTC)
Elyana jai Sheelal 17:05, 20 December 2008
Sexiest twisted, deranged, mangled Jedi killer ever. Demos Traxen 23:37, 20 December 2008
Valtika - The Togruta 23:28, 20 December 2008 (UTC)
Stinkin' Jedi!! User:Nototter
Four arms = four lightsabers. Awesome!Darth Wylind 19:28, 21 December 2008 (UTC)
Darth Revanon 7:35, 22 December 2008 (UTC)
General Grievous ftw!User:Raptearer
"Army or not, you must realize YOU-ARE-DOOMED! User:Trandoshan mercenary
Golden Monkey 16:50, 23 December 2008 (UTC)
He is the best army commander in my books. Plus he could fight like a Jedi even though he isn't. -- Unic of the borg (pronounced Unique)
SingAurraSing 11:41, 25 December 2008 (UTC)
Even though he's kind of sucking in Clone Wars... he still rocks. Leialover229 18:58, 27 December 2008 (UTC)
"Unstoppable... he is... unstoppable" -K'kruhk. Genndy Tartakovsky's Clone Wars has forever burnt General Greivous into my mind as the most flat-out awesome character ever, current Clone Wars series notwithstanding. Beholder1995
LONG LIVE ABEL!

IFYLOFD

(

And now, young Skywalker, you will die.

) 01:31, 18 December 2008 (UTC)
There is nothing sexier than good continuity. --

Darth Culator

(Talk) 01:35, 18 December 2008 (UTC)
SoresuMakashi(Everything I tell you is a lie) 04:51, 18 December 2008 (UTC)
Might even best God... --

Riffsyphon

1024

09:50, 18 December 2008 (UTC)
Havac 04:22, 20 December 2008 (UTC)
Darth Paulus (

May the Force serve you well!

) 15:28, 26 December 2008 (UTC)
The Broox 14:58, 27 December 2008 (UTC)
He may not be fully canon, but that doesn't stop him from being badass. Golden Monkey 15:36, 23 December 2008 (UTC)

I need a name

(

Complain here

) 15:38, 23 December 2008 (UTC)
He's serving up a bucket full of pain.

IFYLOFD

(

And now, young Skywalker, you will die.

) 21:06, 23 December 2008 (UTC)
He is lolz.

Chack Jadson

(Talk)

00:08, 24 December 2008 (UTC)
—

Fiolli

{Alpheridies University ComNet}

17:16, 24 December 2008 (UTC)
The Broox 14:59, 27 December 2008 (UTC)
The Kentucky Colonel. --

Michaeldsuarez

(

Activate Holocron

) 20:14, 29 December 2008 (UTC)
He killed Alema someone even a Jedi could'nt kill, niceDarksaber501st 23:33, 28 December 2008 (UTC)
He's caring, talented with a ship, and really handsome Jaina McGregor 02:44, 29 December 2008 (UTC)
Gals lovin' hesa. Mesa knows firsthand. --Skippy Farlstendoiro 13:37, 19 December 2008 (UTC)

I need a name

(

Complain here

) 14:34, 19 December 2008 (UTC)
Go Jar Jar! His episode was the funniest by far! Sithlordsforever 16:10, 21 December 2008 (UTC)
Jar Jar is bombad. Golden Monkey 16:00, 22 December 2008 (UTC)
I love this guy--Lop-Har Kela 02:02, 25 December 2008 (UTC)
Comeback of the year. -- Ozzel 03:58, 28 December 2008 (UTC)
I don't know why so many people hate Jar Jar: he reminds me of me. On second thoughts that might explain why so many people hate me :P User:AHS0KA
Don't like perfection one bit!Meesa yoda 02:44, 30 December 2008 (UTC)
Jaxxon...Jaxxoff. Jaxxon, Jaxxoff.

IFYLOFD

(

And now, young Skywalker, you will die.

) 22:01, 20 December 2008 (UTC)

I need a name

(

Complain here

) 13:11, 22 December 2008 (UTC)
What's up, Doc? Darth Paulus (

May the Force serve you well!

) 15:28, 26 December 2008 (UTC)
Call him Jax for short... which he ain't. -- Ozzel 04:15, 28 December 2008 (UTC)
Let him win this year. QuiGonJinnBe mindful of the Living Force... 21:03, 23 December 2008 (UTC)
—

Fiolli

{Alpheridies University ComNet}

17:16, 24 December 2008 (UTC)
Here's to the finest crew in Starfleet! --

I need a name

(

Complain here

) 17:55, 24 December 2008 (UTC)
Captain's Log: There isn't anything wrong with me being here.--

Michaeldsuarez

(

Activate Holocron

) 20:17, 29 December 2008 (UTC)
All votes otherwise shall attract nothing but unlimited derision. Thefourdotelipsis 11:09, 21 December 2008 (UTC)

I need a name

(

Complain here

) 19:30, 21 December 2008 (UTC)
Grand Moff Tranner (Comlink) 23:47, 21 December 2008 (UTC)
Green Tentacle (Talk) 23:47, 21 December 2008 (UTC)
Muuuuuurgh 23:48, 21 December 2008 (UTC)
Golden Monkey 15:52, 22 December 2008 (UTC)

IFYLOFD

(

And now, young Skywalker, you will die.

) 21:07, 23 December 2008 (UTC)
—

Fiolli

{Alpheridies University ComNet}

17:16, 24 December 2008 (UTC)
YAY! Leialover229 18:58, 27 December 2008 (UTC)
Why not? Let some random win this year -- User:Darth Kai
He has an unbeatable smile, he get's Aayla Secura, he has an awesome accent; what's not to like? Jedi Link 20:42, 18 December 2008 (UTC)
Togrutalover 14:44, 21 December 2008 (UTC)
One of Star Wars' most badass squid people. Golden Monkey 16:00, 22 December 2008 (UTC)
A Nautolan. The best. He got Aayla and he is a great fighter. Curse you Emperor Palpitine. You tick me off. User:Kelif the Jedi
1.His ability to survive a lightsaber-slap from Grievous 2. His hat. Dr. Bough 22:34, 18 December 2008 (UTC)
ToRsO bOy 20:26, 19 December 2008 (UTC)
He kicks butt, and as Dr Bough says, he has the hat. Sithlordsforever 22:43, 20 December 2008 (UTC)
You can't kill him, and the hat. Darth Shogun 12:44, 22 December 2008 (UTC)
Perfect combination of Power, Force abilities and Wisdom... and the hat. Darth mckenna 18:05, 22 December 2008 (UTC)
—

Fiolli

{Alpheridies University ComNet}

17:16, 24 December 2008 (UTC)
He has a freakin' sweet hat.

IFYLOFD

(

And now, young Skywalker, you will die.

) 23:10, 25 December 2008 (UTC)
You can slice him, you can dice him, you can shoot 'im up, bash him over the head and make a pot roast out of 'im, but the K'Kruhk man keeps com'in back for more, and you can't beat the sweat rice-farmer hat. Darth Vatrir 16:30 25 December 2008 (UTC)
I think the day K'Kruhk dies will be the day all of the fans abandon Star Wars. Leialover229 18:58, 27 December 2008 (UTC)
For the hat...--The All-knowing Sith'ari 21:31, 29 December 2008 (UTC)
Meesa yoda 03:03, 30 December 2008 (UTC)
I don't see why nobody else nominated him yet. He is the classic hero. I couldn't let him go without a nomination at the least. He's powerful, he's skilled, he's gone through everything, and he follows the Hero's Cycle! Darth Cronox
He's my hero. --Skywalker22 09:17, 23 December 2008 (UTC)
He's incredibly cool. How can anyone not vote for him? He brought down the empire, he taught himself to be a jedi, and to be a much more powerful and sensible one than nearly any in the old order. Sure he's a little corny in the movies, but he ends up being one of the most awesome characters ever to exist.KypSide 12:49, 23 December 2008 (UTC)
Darth Revanon 11:45, 23 December 2008 (UTC)
He's Luke Skywalker. He's here to rescue us. Need I say more? Rain Thalo 19:08, 23 December 2008 (UTC)
Elyana jai Sheelal 19:28, 23 December 2008 (UTC)
There is no one better then Luke Skywalker. I am surprised that there isn't more votes for him. -Echoes- 20:47, 23 December 2008 (UTC)
Who wouldn't vote for luke skywalker? LukeTek 17:25, 24 December 2008 (UTC)
The greatest there's ever been. 'Nough said. Laureilie 19:58, 24 December 2008 (UTC)
Luuuuuuuke! Leialover229 18:58, 27 December 2008 (UTC)
He is the ressurector of the light side and he loved from many women from these legendary things who he done I love him. 11:19 December 2008 from the User talk:Michael the Messenger
JediWinter 15:16, 28 December 2008 (UTC)
He is the best hero of them all. C.K. 05:45, 29 December 2008 (UTC)
Meesa yoda 03:03, 30 December 2008 (UTC)
Drenskin 08:52, 30 December 2008 (UTC)
Hard to find a better JediNelsondog 04:09, 31 December 2008 (UTC)
I need no explanation. DC 03:09, 20 December 2008 (UTC)

I need a name

(

Complain here

) 20:11, 20 December 2008 (UTC)
Gotta love Marn. Leialover229 18:58, 27 December 2008 (UTC)
For the highest level of brilliance I have probably ever seen in a life form. Plus he has cool eyes. GAdmiralPawn 23:47, 22 December 2008 (UTC)

I need a name

(

Complain here

) 11:59, 23 December 2008 (UTC)
Darth Revanon 11:45, 23 December 2008 (UTC)
Coolest blue-skinned person ever. Rain Thalo 19:10, 23 December 2008 (UTC)
Um...yeah.--Mitth'raw'nuruodo(Imperial HoloNet) 23:28, 23 December 2008 (UTC)
He deserves no less volksgrenadier
Pure brilliance. Best EU villain Darth Cronox
I vote for Mith... for Mitth... for Thrawn. Mister D 19:00, 26 December 2008 (UTC)
Genius! QuiGonJinnBe mindful of the Living Force... 22:09, 26 December 2008 (UTC)
Green Tentacle (Talk) 13:41, 27 December 2008 (UTC)
He's the best vilain I've ever seen. No doubt. Drake Lothus
Best Grand Admiral ever! Bring back Thrawn!Sithlordsforever 13:37, 29 December 2008 (UTC)
Greatest strategist who ever lived and the only non-human who achieved the rank of grand admiral in the Imperial Navy. MASA 14:06, 29 December 2008 (UTC)
"If I did let them stay, first thing you know, they'd want to be friends. And then look at the trouble we'd have!" Graestan(Talk) 01:24, 18 December 2008 (UTC)

Madclaw

Shyriiwook! 01:59, 18 December 2008 (UTC)
Santa Claus lived on Endor! -- Delmar Nori 21:08, 18 December 2008 (UTC)
Noa gets the word out about diabeetus. Golden Monkey 16:00, 22 December 2008 (UTC)
If you don't vote for Noa, you're a dunderheaded lummox. -- Ozzel 04:17, 28 December 2008 (UTC)
He's a droid, but he RULES! BATTLE DROIDS!
I like OOM-9 because he totally kicks gungun haillu (is that how you spell it?) User:Nototter

I need a name

(

Complain here

) 19:30, 21 December 2008 (UTC)
Just look at him. If anyone deserves this, he does. -Jinko 01:32, 22 December 2008 (UTC)
We need more Oppo Rancisis! Sithlordsforever 20:51, 22 December 2008 (UTC)
goooo oppo!!!Tusken916
Just for the head he deserves a nomination. It must be highly confusing eating. Sithlordsforever 14:11, 29 December 2008 (UTC)
Possibly the manliest non-human out there. --Skywalker22 09:18, 18 December 2008 (UTC)
VT-16 10:28, 18 December 2008 (UTC)
Twistedhands 12:57, 18 December 2008 (UTC)
Electric Judgement anyone? Spartan785 00:19, 19 December 2008 (UTC)
Mr. "I Have A Cool Face Mask, and you don't so there" --Ferg 07:33, 19 December 2008 (UTC)
He's been my favorite Jedi for years. R1-11
Darth Revanon 12:52, 22 December 2008 (UTC)
Golden Monkey 15:31, 23 December 2008 (UTC)
Elyana jai Sheelal 19:27, 23 December 2008 (UTC)
As usual. -- Cato Neimoidia 17:47, 24 December 2008 (UTC)
--Hobbie 02:53, 25 December 2008 (UTC)
Manuccij 01:45, 26 December 2008 (UTC)
Koh-to-ya, Master Plo! Darth Paulus (

May the Force serve you well!

) 15:28, 26 December 2008 (UTC)
Hes just the greatest. --

Master Zervon

Council Chambers

20:27, 26 December 2008 (UTC)
I mean, look at him, he deserves to win, c´mon vote!!Tusken916
He is Plo Kool! Clonewarrior
He dances, he flys, he saves the good guys asses in every movie! Vote R2! Dr.Kermit(The Doctor is in) 02:31, 19 December 2008 (UTC)
Yeah i have an R2-D2 that is interactive and responds to commands. In fact, he is right next to me right now! Obiwan3000 02:38, 19 December 2008 (UTC)
The true hero of Star Wars. Golden Monkey 16:00, 22 December 2008 (UTC)
Darth Revanon 12:52, 22 December 2008 (UTC)
I nearly died laughing seeing him fight in Episode III.Kyara Lottia 04:03, 24 December 2008 (UTC)
R2D2, the greatest droid in existence. And he's cute. Come on Artoo! And he scrapped the spy droid too! Go Artoo! Sithlordsforever 13:49, 29 December 2008 (UTC)
R2 is so cute!!!! omochiikaerii!!!! Teeky 06:46, 26 December 2008 (UTC)
Strong mouse 06:05, 27 December 2008 (UTC)
Hell yeah! If it weren't for him half the heroes in the Star Wars saga would be dead! --Lord EggHead (I'm an Agent of Chaos) 16:04, 28 December 2008 (UTC)
The most kickass driod ever! And I agree with Lord EggHead, SO true!--JediBen14 03:56, 29 December 2008 (UTC)
Beepa-deep beep beep. -- User:Darth Kai
The Solos live on through the Fels. --Skywalker22 08:15, 23 December 2008 (UTC)
He is the emperor we've been looking for volksgrenadier
Possibly my favorite Legacy of the Force character. Leialover229 18:58, 27 December 2008 (UTC)
It's so hot how he walks on his arms. --Golden Monkey 16:00, 22 December 2008 (UTC)
Another cool, small Jedi Master! Sithlordsforever 13:46, 29 December 2008 (UTC)
Come on, the Stormies got to have a little credit! Go Aurek company!Darksaber501st 22:06, 29 December 2008 (UTC)
Another fine candidate. QuiGonJinnBe mindful of the Living Force... 22:04, 26 December 2008 (UTC)
awesomenesst thing around. like yoda except better!--Vandar Tokare42 05:39, 18 December 2008 (UTC)
I feel sorry for him -- Darth Kai
Villie promises everyone who votes for him lots of monies and yumyums.

Madclaw

Shyriiwook! 23:24, 18 December 2008 (UTC)
Hokay Enochf 21:45, 19 December 2008 (UTC)
supergeeky1 \

m

/ The Cantina 06:20, 20 December 2008 (UTC)
The coolest member, and the nicest member, of the Jedi Covenant! I want him to live! Bring back Xamar! Sithlordsforever 13:47, 29 December 2008 (UTC)

I need a name

(

Complain here

) 17:16, 29 December 2008 (UTC)
He saved billions, at the cost of his own life. Shame about his name though. But he was a great Jedi. Sithlordsforever 14:17, 29 December 2008 (UTC)
Insane you are, if vote for him, you do not. ~Roger Roger~ Home of the B1s 22:42, 19 December 2008 (UTC)
For fear of being deemed insane...Rain Thalo 21:43, 20 December 2008 (UTC)
freakishly cool.null37 20 December 2008 (UTC)
Gray Jedi 00:13, 21 December 2008 (UTC)
Darth Revanon 7:25, 22 December 2008 (UTC)
Golden Monkey 16:00, 22 December 2008 (UTC)
Samuel L. Jackson isn't the original BAMF. bibliomaniac15 06:03, 23 December 2008 (UTC)
Go Yoda!Marvel brainiac 03:06, 25 December 2008 (UTC)Marvel brainiac
Indeed... Clouded, this Wookie-verse will be, if Yoda wins not...Darth Silvarion 18:47, 25 December 2008 (UTC)
With a username like mine, vote otherwise I could not. Wildyoda 01:54, 26 December 2008 (UTC)
Without a doubt the best of the Jedi of the old republic. User:Kelif the Jedi
The best Jedi in the history of all of Star Wars. You would be a fool not to vote for Yoda.User:Jedijake123
A powerful and wise Jedi C.K. 05:49, 29 December 2008 (UTC)
Size matters not. Judge him by his size do you? Hm? Hm. And well you should not. For his ally is the Force and a powerful ally it is. Master Yoda is the greatest and wisest Jedi who ever lived. MASA 14:12, 29 December 2008 (UTC)
"Try not...Do...Or do not...There is no try." Wise, powerful in the force, a true grandmaster in Ataru, and lived to be 900--Darth Marik87 14:31, 29 December 2008 (UTC)
Best Jedi ever. Ajeanette
Drenskin 10:58, 21 December 2008 (UTC)

I need a name

(

Complain here

) 19:30, 21 December 2008 (UTC)
Go Jedi with dikut former masters.- Fell Skyhawk Debriefing Room23:59, 21 December 2008 (UTC)
However futile this vote may be, he deserves it \o/. -User:Elshnair/sig 12:52, 22 December 2008 (UTC)
Go Zayne. --Skywalker22 09:17, 23 December 2008 (UTC)
His intro in the first comic kept me reading Enochf 17:21, 24 December 2008 (UTC)
He is "a living proof the Force has a sense of humor", but I like him very much... Darth Paulus (

May the Force serve you well!

) 15:28, 26 December 2008 (UTC)
The Broox 15:03, 27 December 2008 (UTC)
The only Jedi in action that hasn't killed a soul. Go Carrick! Gratulor - User Page 19:12, 27 December 2008 (UTC)
Yay Zayne. Leialover229 18:58, 27 December 2008 (UTC)
If there was ever a Jedi Padawan that showed it was diffcult to become a Jedi Knight it is Zayne. Five Masters after him and he beats them. That's cool. --Crumb 02:40, 30 December 2008 (UTC)
Meesa yoda 03:03, 30 December 2008 (UTC)
Even Piell
BEST HALF BLIND, DWARF JEDI!!! GO EVEN!!Tusken916