Wor Tandell was the primary planet of the Tandell system in the Dolomar sector. Its surface was covered with an array of oceans and landmasses.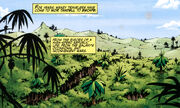 In 3963 BBY a Republic Hammerhead-class cruiser Testament made a stop on the planet, while Captain Telettoh and Jedi General Malak were looking for Zayne Carrick and his band of renegades.[2]
Imperial Governor Lord Cuvir had a mansion on the planet. While serving as the Governor's personal physician, surgical droid 2-1B accompanied Lord Cuvir to his mansion. There, he witnessed Cuvir's assassination at the hands of an aide, secretly working for the Rebel Alliance. 2-1B accepted the Rebel agent's request to join the Rebellion.[3]
Appearances
Edit
Notes and references
Edit
Ad blocker interference detected!
Wikia is a free-to-use site that makes money from advertising. We have a modified experience for viewers using ad blockers

Wikia is not accessible if you've made further modifications. Remove the custom ad blocker rule(s) and the page will load as expected.