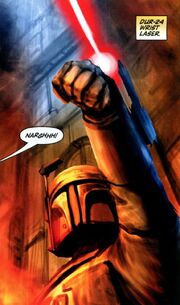 A wrist laser was a type of compact laser weapon capable of inflicting serious damage at extremely close range. Wrist lasers consisted of rechargeable solar-powered gauntlets. A user had the option of causing the chamber of the gauntlet to be overloaded, which would result in a small explosion.
Wrist lasers typically cost 2,000 credits and 100 credits for a power pack.
Variants of this weapon included the LG-5 laser gauntlet manufactured by Prax Arms, and similarly wrist-mounted wrist blaster.
Appearances
Edit
Ad blocker interference detected!
Wikia is a free-to-use site that makes money from advertising. We have a modified experience for viewers using ad blockers

Wikia is not accessible if you've made further modifications. Remove the custom ad blocker rule(s) and the page will load as expected.