The XP-38 sport landspeeder was a SoroSuub landspeeder.
It was similar in design to the earlier X-34; in fact, it looked much like a slim version of this older model. Its engines were similar to the Flash speeders of Naboo.
This updated, sleeker model was a popular civilian speeder, and was also often used by Imperial forces as a support vehicle at planetary garrisons.
The XP-38 was released shortly before the Battle of Yavin and customers soon found that its repulsorlift system made travel over rough terrain quite difficult. SoroSuub produced new versions (i.e. the XP-38 All-Terrain Roughrider) for use on rural areas.[3]
Appearances
Edit
Notes and references
Edit
External links
Edit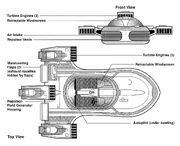 Ad blocker interference detected!
Wikia is a free-to-use site that makes money from advertising. We have a modified experience for viewers using ad blockers

Wikia is not accessible if you've made further modifications. Remove the custom ad blocker rule(s) and the page will load as expected.