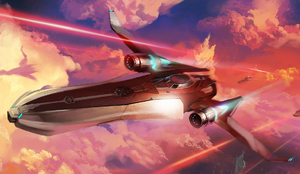 Yacht was the term given to any starship or aquatic vehicle used primarily for recreational purposes. Most yachts were similar in size to light freighters, though a few were as large as small capital ships. They tended to be fairly expensive vessels, with highly luxurious accommodations. As they tended to be relatively fast ships, some yachts were employed by smugglers, though they usually had less cargo capacity than dedicated freighters.
Appearances
Edit
Ad blocker interference detected!
Wikia is a free-to-use site that makes money from advertising. We have a modified experience for viewers using ad blockers

Wikia is not accessible if you've made further modifications. Remove the custom ad blocker rule(s) and the page will load as expected.