Yané
Talk

0
103,488pages on
this wiki
Yané
Biographical information
Homeworld
Physical description
Species
Gender
Hair color
Eye color

Brown

Chronological and political information
Era(s)
Affiliation
Yané was a Human female who was one of the five handmaidens of Queen Padmé Amidala.
Biography
Edit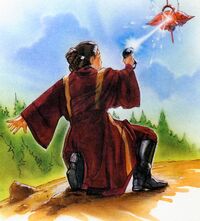 The youngest of the five, Yané remained behind with her fellow handmaiden, Saché, during the Trade Federation Crisis when the Queen, Sabé, Rabé, and Eirtaé fled the planet with the help of the Jedi.
What happened to her during her time on Naboo while the Queen was gone is unknown, but given that she was seen with Governor Sio Bibble when the Queen left, it can be speculated that she was also recaptured by the Trade Federation.
Yané was reunited with Queen Amidala and her fellow handmaidens after the Battle of Naboo and attended both Qui-Gon Jinn's funeral and the Celebration Parade.
Behind the scenes
Edit
Yané was portrayed by Candice Orwell in The Phantom Menace.
Appearances
Edit