This lightsaber was created by the Dark Jedi Yun. After being brought aboard Jerec's flagship, the Vengeance, Qu Rahn stole it and briefly used it to defend himself against Jerec's Dark Jedi, only managing to bisect Maw before being subdued by Jerec. Yun used it in his duel with Kyle Katarn, taking it with him when fleeing from the aspiring Jedi. When Sariss tried to kill Katarn after his crash on Ruusan, Yun then used it to prevent her from doing so, leading to his death. After that, Kyle Katarn used it to duel and kill Sariss, Boc Aseca and Jerec. He also used it prior to and during his fall to the dark side.
Appearances
Edit
Notes and references
Edit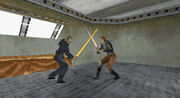 Ad blocker interference detected!
Wikia is a free-to-use site that makes money from advertising. We have a modified experience for viewers using ad blockers

Wikia is not accessible if you've made further modifications. Remove the custom ad blocker rule(s) and the page will load as expected.