A species of sentient brown furred humanoids inhabited the galaxy during the reign of the Galactic Empire. They had two protruding eyes with horizontally closing eyelids, and several small tentacle-like appendages that surrounded their mouth. The species was capable of speaking Galactic Basic and could breathe unfiltered clouzon-36 gas. An example of this species was the bad-tempered Mining Guild boss Yushyn, who operated an Asteroid Belt Gas Refinery 3 years before the Battle of Yavin.[1]
Behind the scenes
Edit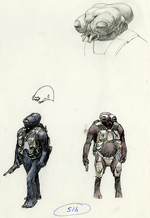 The species first appeared in "The Call," the thirteenth episode in the second season of the Star Wars Rebels television show.[1] The design for the species was based on a piece of alien bounty hunter concept art drawn by Ralph McQuarrie for Star Wars: Episode V The Empire Strikes Back. Concept art of Yushyn for the Rebels episode was produced by artist JP Balmet.[2] The character Pintu who was slated to appear in unfinished The Clone Wars episodes, is of this species.[3]
Appearances
Edit
Notes and references
Edit
Ad blocker interference detected!
Wikia is a free-to-use site that makes money from advertising. We have a modified experience for viewers using ad blockers

Wikia is not accessible if you've made further modifications. Remove the custom ad blocker rule(s) and the page will load as expected.