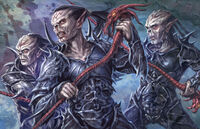 The Yuuzhan Vong castes were the social groupings that the Yuuzhan Vong belonged to. Each Yuuzhan Vong was born into their caste. While special actions could cause them to be promoted to another caste, failures would usually result in demotion to another caste. Each of the castes was extremely hierarchical.
Appearances
Edit
Ad blocker interference detected!
Wikia is a free-to-use site that makes money from advertising. We have a modified experience for viewers using ad blockers

Wikia is not accessible if you've made further modifications. Remove the custom ad blocker rule(s) and the page will load as expected.