Z-95mk1 Headhunter
Talk

11
114,739pages on
this wiki
Z-95mk1 Headhunter
Production information
Manufacturer
Product line
Model

Z-95mk1[3]

Class
Technical specifications
Length

11.8 meters[2]

Maximum
atmospheric speed

1,050 km/h[2]

Hyperdrive system

None[4]

Armament
Crew

Pilot (1)[2]

Passengers

None[4]

Cargo capacity

50 kg[2]

Consumables

1 day[2]

Usage







Era(s)
The Z-95mk1 Headhunter, also known as the Z-95 Mark I Headhunter or Z-95 S Headhunter, was the first model in the Z-95 Headhunter series produced by Incom/Subpro. An atmospheric fighter craft, it was outfitted with a bubble-cockpit, swing-wings and had twin engines on its forked tail. Weapons hardpoints were located on the fighter's wings and fuselage.
Behind the scenes
Edit
The Z-95s featured in Han Solo at Stars' End were envisioned by author Brian Daley as being "a Lucasfilm version of the P-38 Lightning."[5]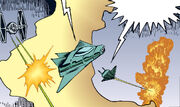 In the newspaper comic strip adaptation of Han Solo at Stars' End, collected in Classic Star Wars and available on Hyperspace as a webstrip, the Mark I Headhunters that Han Solo and the outlaw techs fly are pictured quite differently. This illustration also has the Z-95s fighting TIE/LN starfighters rather than the CSA IRD-A fighters described in the novel.
Appearances
Edit
Notes and references
Edit