Ad blocker interference detected!
Wikia is a free-to-use site that makes money from advertising. We have a modified experience for viewers using ad blockers

Wikia is not accessible if you've made further modifications. Remove the custom ad blocker rule(s) and the page will load as expected.
The Z-95mk1 Headhunter, also known as the Z-95 Mark I Headhunter or Z-95 S Headhunter, was the first model in the Z-95 Headhunter series produced by Incom/Subpro. An atmospheric fighter craft, it was outfitted with a bubble-cockpit, swing-wings and had twin engines on its forked tail. Weapons hardpoints were located on the fighter's wings and fuselage.
Behind the scenes
Edit
The Z-95s featured in Han Solo at Stars' End were envisioned by author Brian Daley as being "a Lucasfilm version of the P-38 Lightning."[5]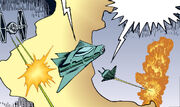 In the newspaper comic strip adaptation of Han Solo at Stars' End, collected in Classic Star Wars and formerly available on Hyperspace as a webstrip, the Mark I Headhunters that Han Solo and the outlaw techs fly are pictured quite differently (as seen at left) from the later illustration from Han Solo and the Corporate Sector Sourcebook (shown above.)
Appearances
Edit
Notes and references
Edit