Zeta Traal
Talk

0
103,486pages on
this wiki
Zeta Traal
Physical description
Species
Gender
Hair color

Black

Eye color

Blue

Chronological and political information
Era(s)
Affiliation
Captain Zeta Traal was a Human female Imperial officer working for the Imperial Diplomatic Corps during the Galactic Civil War.
Biography
Edit
Traal was assigned to act as a diplomatic attaché to the royal regent, Zelor on the planet, Velmor. Her function was to make certain that Zelor's ruling conformed to Imperial standards. Three years after the Battle of Yavin, the existing royal heir, Prince Anod prepared to accept his coronation and take control of Velmor from Zelor as the planet's new king. Although Anod was loyal to the Empire, neither Traal nor Zelor had any intention of allowing the prince to remain in power for very long.
The situation became more complicated when Anod's older brother, Prince Denid arrived on Velmor after a twenty-year exile. A bounty hunter named Korl Marcus had discovered Denid on the planet Tantajoc V and brought him home to Velmor so that he could rightly assume the position of heir-apparent to the throne. Korl Marcus was in fact, Luke Skywalker in disguise. He agreed to assist Denid, but did not want the Galactic Empire discovering his location.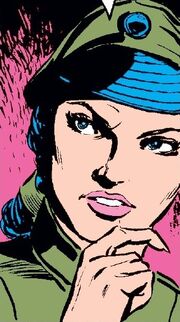 Captain Traal suspected that Korl Marcus was the sort of hunter whose allegiance was owed to whoever had the most money. She attempted to seduce Korl one evening and offered him a reward if he would agree to assassinate Prince Denid and his consort, Lady Loren (who was in fact, Princess Leia Organa in disguise). Luke had no intention of betraying his friends, and the following day he caught up with them in the midst of a Mrid Hunt in order to warn them of Traal's schemes.
The conspiracy between Traal, Zelor and Anod fell apart. As everything erupted into chaos, Traal shot Prince Anod in the chest, killing him instantly. She then trained her blaster on Skywalker, but a Velmoc named Jedidiah leapt on top of her, spoiling her aim. Traal wheeled around and fired a shot at point-blank range directly into Jedidiah's chest, killing him. By this point, Denid, Luke and the others had gained the upper hand and Traal was arrested.
Appearances
Edit